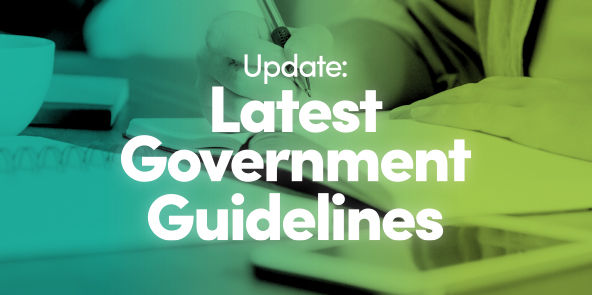 12 May

The Latest Government Guidelines

In his address to the nation recently, the PM outlined a roadmap for reopening society.
"This document sets out a plan to rebuild the UK for a world with COVID-19. It is not a quick return to 'normality.' Nor does it lay out an easy answer. And, inevitably, parts of this plan will adapt as we learn more about the virus. But it is a plan that should give the people of the United Kingdom hope. Hope that we can rebuild; hope that we can save lives; hope that we can safeguard livelihoods.

It will require much from us all: that we remain alert; that we care for those at most risk; that we pull together as a United Kingdom. We will continue to work with the devolved administrations in Scotland, Wales and Northern Ireland to ensure these outcomes for everybody, wherever they live in the UK."
The guidance, which has been published to support this strategy aims to give you a clearer picture of guidelines on social distancing, safe work places, re-opening of schools, traveling safely and much more. Follow this link to the full document.
Some of the topics covered in detail on step one of the road map are:
Work
Schools
Travel
Face coverings
Public spaces
Protecting the clinically vulnerable
Enforcement
Parliament
International Travel
The PM Boris Johnson opens the document, the intro can be seen below:
"We will remember 2020 as the year we were hit, along with all other nations, by a previously unknown and remorseless foe.

Like the rest of the world, we have paid a heavy price. As of 6 May, 30,615 people have lost their lives having tested positive for COVID-19. Every one of those deaths is a tragedy for friends and family: children have lost mothers and fathers; parents have lost sons and daughters, before their time. We should pay tribute to the victims of this virus: those who have died, and their loved ones who remain."
As always all guidance on coronavirus is available on gov.uk/coronavirus
In addition, please read the following guidance, which we will support the above strategy:
– Updated social distancing guidelines
– Guidance on making and wearing face coverings