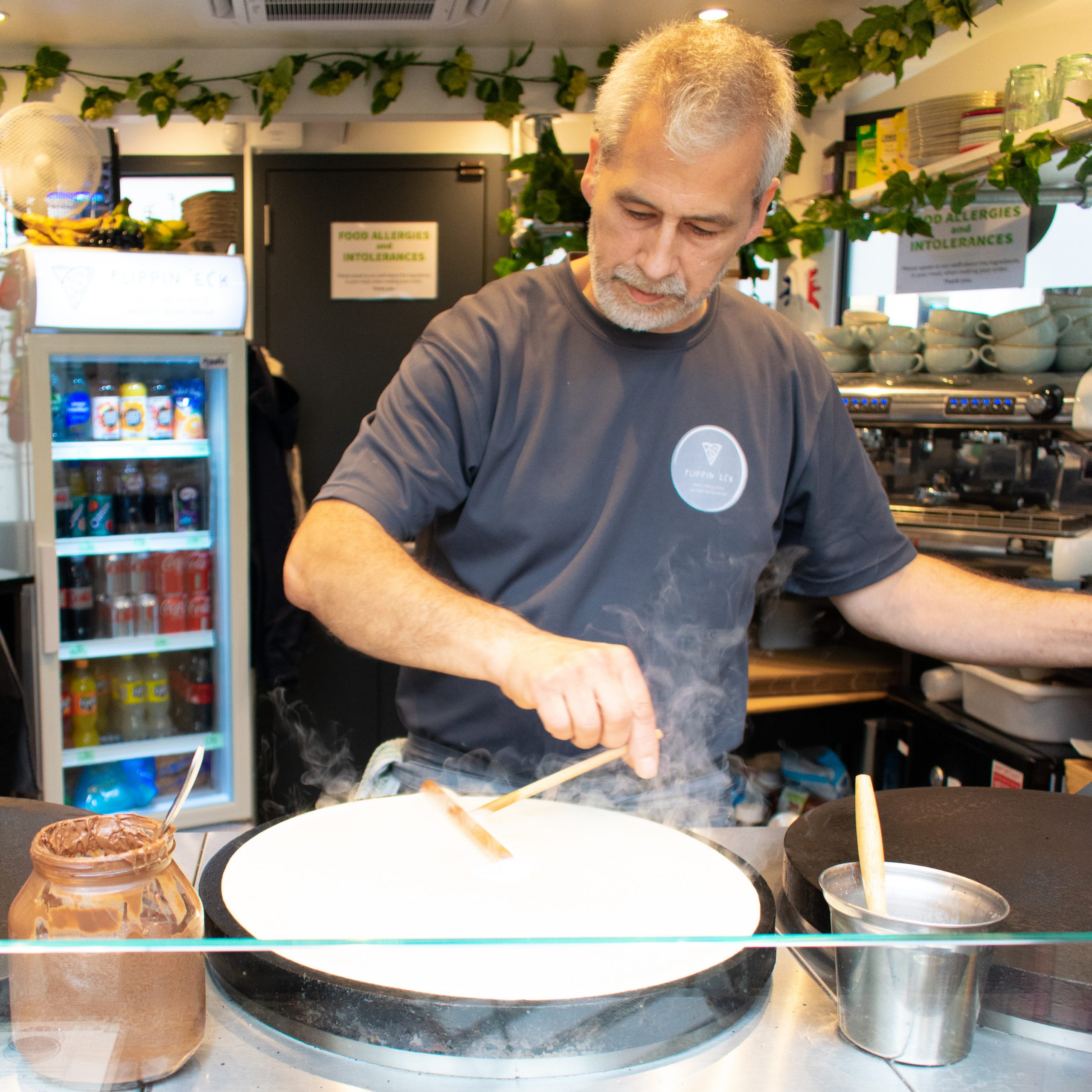 01 Dec

Spotlight on Flippin Eck

We'll get straight to the point – Flippin 'Eck is the stuff of dreams!  Flippin 'Eck Crepe and Waffle House is the full official name, and the clue is in the title.  Crepe and waffle because that's what they do: flippin 'eck because that's what you'll say when you see them (although you'll probably smell them first!). 

David and Katrina are masters of their craft and the only crepe and waffle specialists in Halifax. Today, their fab little kiosk in the Westgate Arcade sells a tantalising range of indulgent snacks, treats and drinks, all freshly made to order while you wait and watch, with eyes on stalks and nose on overdrive! 

First up there are savoury French pancakes known as galettes – all of them made with gluten-free buckwheat and filled with your choice of things like cheese, ham, mushrooms or homemade marinated chicken. Next, classic French crêpes are the sweet ones, and here you can agonise over fillings like nuts, marshmallows and fudge bits, or keep it simple and traditional with butter, sugar and lemon. Served on a stick, Belgian waffles is the other big seller here, again available with more toppings than you can shake that stick at!

Drinks-wise, there's freshly ground coffee or tea of course, with cold options including pop, bottled water or delicious real fruit smoothies in all your favourite flavours. Coming soon there will be mulled wine too, not to mention a range of speciality hot chocolates with varieties including orange, Nutella and even Baileys.  

You probably know enough to know you need to visit, but just in case it seals the deal, you can take your food away or grab a seat and relax.  Better still, the kiosk is basically outdoors but under cover, so there's no need to worry about COVID or the rain.  Last but not least, you can even book kids' parties here, where the little ones create their very own treats!