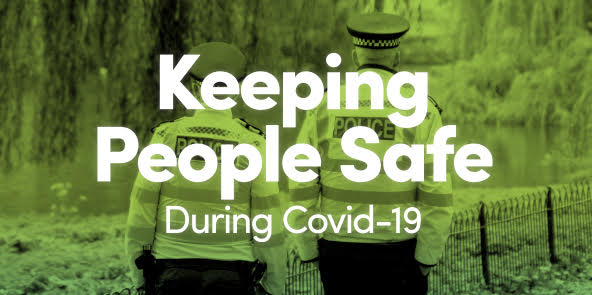 27 Mar

Keeping People Safe During Covid-19

West Yorkshire police, our partners at Calderdale Council and the wider Community Safety Partnership are committed to keeping people safe during the current Covid19 response.

At the moment we are working together to encourage members of the public to follow the Governments advice to Stay at home:
Only go outside for food, health reasons or work (where this absolutely cannot be done from home)
Stay 2 meters (6ft) away from other people
Wash your hands regularly
This is our initial priority in order to prevent the spread of the virus and protect the NHS.
We are aware that business owners and premises may be vulnerable during periods of closure.
Our officers and Council Community Safety Wardens have been briefed and are maintaining our High visibility patrols across Calderdale
Council CCTV operators continue to monitor the Districts CCTV network and have direct contact to Police on the ground
Officers working throughout the night have been requested to pay additional attention to business premises.
In these unprecedented times and with limited resources we have to review our current threat, harm and risk and deploy our staff accordingly.
Advice in relation to security and business crime is available online, click here.
West Yorkshire police is also working with the National Business Crime Centre to get further advice published. In the meantime the following advice has been given:
Closed Premises/Venues that have been temporarily shut
Test your alarm, ensure it is monitored and fully operational
Identify any vulnerable areas. Rectify these. Ensure security gates, bollards and fire exit doors have been secured prior to closure of the premises.
Make sure you have list of key holders who can be contacted in times of emergency. Ensure your contact details for staff are up to date.
Consider moving high value items into secured stockrooms and out of view.
Ensure keys to the premises or other venues are not left inside and are instead with dedicated key holders.
Consider timer switches or ensure sufficient lighting is left on at the premises/surrounding area.
Ensure there are no combustible materials left in the proximity of the building such as packaging – consider the risk of arson.
Review your CCTV to confirm it is operational, provides good quality images and is positioned to cover as much of the stores public and private areas. You may wish to consider a mobile phone app that allows connectivity and a vocal capacity to engage with any intruder.
Ensure that no cash is retained on the premises overnight (leave a note on the door stating that no cash or valuables are kept overnight) or store then in a security accredited safe bolted to the floor.
Physical Protective Measures
Secure by Design products – use security rated products where possible (www.securedbydesign.com)
External shutters are recommended but some buildings may be subject to planning approval before installation
Ensure all doors leading from public to staff arteries-loading areas etc. are kept secure and monitored.
Laminated glass or security film that can be applied to existing glass to make it more resistant to a physical assault. Shutters and grilles (subject to planning regulations may also be a consideration)
An insurance rated safe should be bolted to the floor. Anti-tamper sensors can be fitted to set off an alarm if attacked.
Anti-ram security tested raider retractable bollards can be mounted externally to protect frontages but may require planning approval.
Consider use of anti-theft alarms on most desirable household items.
Fogging devices that activate as a result of an intruder activation may also be beneficial-you can't steal what you can't see.

Please be assured that the Police, Council and our partners are meeting daily to identify and respond to any emerging threats.