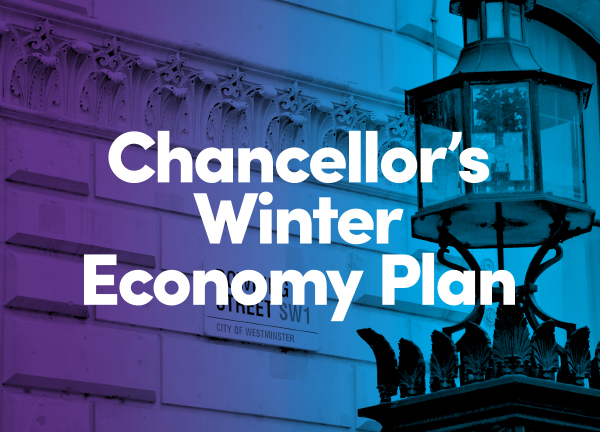 12 Oct

Chancellor's Winter Economy Plan

The Chancellor has announced a number of measures designed to protect jobs and support businesses over the coming months. As with previous government announcements, we expect the detail of these measures to be released over the next few days.

Job Support Scheme

The Job Support Scheme will be introduced on 1 November 2020 to follow on from the current Job Retention Scheme that will finish at the end of October. The scheme will run for six months to 30 April 2021.

To be eligible, employees must work a minimum of 33% of their usual hours. For the remaining hours not worked, the government will pay a third of the usual wage and the employer must also pay a third of the usual wage. So for the hours not worked, the employee will receive two thirds of their usual pay.

The amount that can be claimed will be capped at £697.92 per month per employee.

You do not need to have previously used the Job Retention Scheme in order to access the Job Support Scheme.

Self Employment Income Support Scheme Grant (SEISS)

The Self Employment Income Support Scheme is also being extended.

A further taxable grant will be available to those who are currently eligible for SEISS and are continuing to actively trade but face reduced demand due to coronavirus. This will cover the period from 1 November 2020 to 31 January 2021 and will be calculated as 20% of average monthly profits for those three months, capped at £1,875.

An additional second grant will be available to cover the period from 1 February 2021 to 30 April 2021. The amount of this grant will be announced nearer that time.

VAT

The temporary reduction of VAT to 5% for the tourism and hospitality sectors will be extended until 31 March 2021.

Businesses who deferred their VAT bills earlier this year will be given more time to make the deferred payments. Rather than paying a lump sum in full at the end March next year, they will be able to make 11 smaller interest-free payments during the 2021-22 financial year.

Self-assessment payments

Self-assessment payments deferred from 31 July 2020 and those due by 31 January 2021 will now not need to be paid until 31 January 2022.
Loans
Bounce Back Loans
The length of the loans will be extended from six years to ten, which will cut monthly repayments by nearly half. Interest-only periods of up to six months and payment holidays will also be available to businesses.
Coronavirus Business Interruption Loan Scheme (CIBLS)
Coronavirus Business Interruption Loan Scheme lenders will be given the ability to extend the length of loans from a maximum of six years to ten years if it will help businesses to repay the loan.
Applications for CIBLS loans will also be extended until the end of November.
Protect yourself from scams
Stay vigilant about scams, which may mimic government messages as a way of appearing authentic and unthreatening. Don't give out private information or reply to text messages, and don't download attachments in emails you weren't expecting. Search 'scams' on GOV‌.UK for information on how to recognise genuine HMRC contact. You can also forward suspicious emails claiming to be from HMRC to phishing@hmrc.gov.uk and texts to 60599.